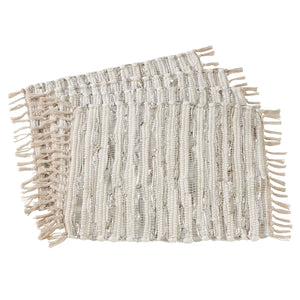 Brand: SARO LIFESTYLE
Features:
Size: 14"x20" Oblong
Set of 4 pcs
Fiber: 50% cotton - 50% leather + Care: spot clean only
Comes in a set of four, which is perfect for everyday use or for a small dinner party.
Dining table placemats help provide protection against scratches, dents, food debris and spills.
Publisher: SARO LIFESTYLE
Details: Placemats add a nice touch to any table. They provide the basis for a lovely layout. Regardless of your design style, you can't deny these raving beauties. They're appealing without even trying. They're where well-cultured taste meets simplicity. These oblong-shaped, foil-strip Chindi placemats are made from a cotton-leather blend and they're pure knockouts. The best part about them is the foil accent, which makes them so attractive.