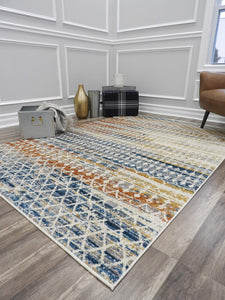 Brand: CosmoLiving
Features:
Balanced color scheme of dark orange blue Gray and white
Layered motif creates rich and super-interesting contrast
. 4 inches pile with Abstract Pattern in the vintage style
Polypropylene with shiny soft-touch finish and power loomed Construction
1-Year limited
Publisher: Rugs America
Details: Layered motifs are the name of the Sydney rug's game. This singular rug from Cosmo living's Manhattan collection has an earthy abstract pattern with a contemporary white diamond pattern beautifully laid over It, making this style a total home décor win. Plus, tones of dark orange, blue, and gray create the perfect balance.